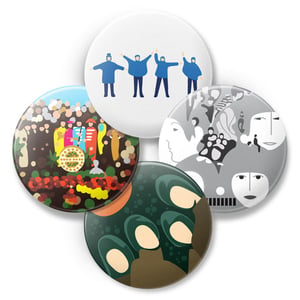 $

7.00
Less is More.
A set of original pin-back buttons designed after the second four lessified album covers by the Beatles. Buy this discounted 4-pcs set (save $ 1.00 USD) and save on shipping as well.
Button sizes: 1,25 inch / 32 mm
The item ships from Czech Republic. Please allow 1-3 weeks for overseas delivery.
Shipping:
Czech Republic
- shipped alone: $2.20 USD
- each additional set: $0.50 USD
International
- shipped alone: $4.00 USD
- each additional set: $1.00 USD
................................................
(Tags: button, badge, pin, beatles, pop, music, miminalistic, abstract, rock, pop culture, pop art, design)